Sporty Nappy Cake: Welcoming the 'Rookie' of the Year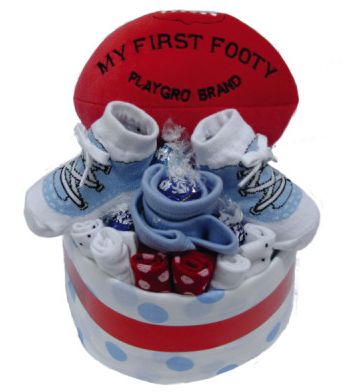 Australia is home to a myriad of athletic events and great sports superstars, and if there is one sport that we folks from 'The Land Down Under' really love, that would be our very version of football. Year after year, whenever football season comes along, thousands and thousands of football fans come out and fill all the available in stadiums. If the expecting parents are devotees of this great sport, then you can be sure their baby will be taking after them, especially if it's a baby boy. In this case, what can be most fitting as a baby shower gift than a sporty nappy cake that oozes with football theme?
Sporty themed nappy cakes and baby gift hampers are always excellent choices, especially if the coming baby is a boy and the parents are well into sports – whether they are solid fans or athletes themselves. For such gifts, one can normally expect the following items to be found therein.
For one, there are the toys, which can either by a football or a soccer ball, whatever the favorite sport of the parents may be, or what you think will be a most fitting sport for the baby he or she grows up. These toys should of course be made of soft materials so that it will avoid inflicting any injury on the baby as he or she plays with.
There will also of course be some baby sports apparel, which can come in many different styles and designs. Sometimes, these baby clothes can be designed or embroidered with a certain team's name, although that doesn't necessarily have to be the case. Often times, having it in the colour that the team is known for will suffice. Baby towels, face washers and bibs will also be included, and of course the baby diapers, all nicely arranged in a nice cake pattern. After all, it is a nappy cake.
If you have the privilege of arranging the baby shower yourself, you may want to consider putting up a themed baby shower – and in this respect, a sporty theme. There is no need to be so detailed in the preparations and the event itself, but you would do well by putting up sport decors in the room and asking the guests to arrive with their favourite jersey's or so. In fact, if the parents are members of a certain sports club, whether that be a playing team or a fans club, you can talk to the appropriate individuals and have the baby shower in the club's venue. If so, then your sporty nappy cake and baby gift hampers will definitely not be out of place.
Want to Give A Football Themed Nappy Cake for Baby Shower?
If you are looking for a football themed nappy cake or baby gift hampers to give to your family, friend, or acquaintance's baby shower, please feel free to give us a call at 1300 727 368. Feel free to look at our other product range here.