Baby Shower Gift Ideas: Stylish and Fashionable Baby Booties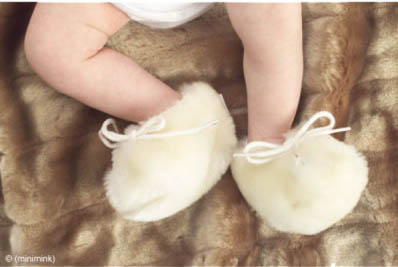 Baby booties are great baby shower gift ideas – they are not only practical, but they can also be very stylish and fashionable. Baby booties come in different styles and forms, and if you intend to gift this to your friend or family's baby, then it would be helpful to know about the different materials that are used to make these lovely baby footwear. This becomes even more important if your consider skin or allergic reactions, and other problems like choking hazards and the like
Wool is a very common material used in making baby booties. This is especially true in the case of knitted baby booties. Because of the different colours of yarns that can be used, they can be very colourful and appealing. The only problem with booties made from this type of material is that they can be a challenge to clean, and they can also shrink when run in the dryer.
Fleece is also another popular material for baby booties. This woolen-type of fabric is taken from polysynthetic fibres (usually polyester) although there are also those which can be fashioned from natural fibres. Many of these booties are also stretchy and waterproof.
Even more stylish are fur booties, but real fur can be really expensive and are not really suitable for a variety of reasons. A great option though are faux mink fur. They look pretty much the same as the real thing, but they are much more suitable for babies. Just be sure though that you get high quality faux fur or else the hair or fibre will fall off easily.
Although there are plain baby booties, there are also baby booties that come with different accessories to make them look more stylish. Buttons are one of the most common accessories added to booties, and so are beads. These can come in different colors and with different designs and can add a whole lot of character to baby booties, making them more decorative rather than functional purposes. However, care must be taken when gifting baby booties because these things can fall off and be the cause of chocking when they end up in the baby's mouth.
There are many other materials and styles for baby booties, so it will be easy to find a pair baby booties that will make for the perfect baby shower gift. If you are in need of baby gift hampers, please feel free to give us a call at 1300 727 368. On the other hand, if you are in need of more baby shower gift ideas, do stop by our blog section where you can read about other baby shower gift ideas and more.